Change and Growth
In June of 2021, Applied Systems celebrated our first 'Pride Month.' The impact was incredible. Employees who identified in the LGBTQIA+ community posted videos expressing their sentiments about pride, inclusivity, understanding, and even coming out to coworkers for the first time. Allies to the LGBTQIA+ community gathered together to show their support through charitable giving, supportive posts on our slack channel, and an overwhelmingly touching collection of personal video messages to our community. The response to the activities and sharing of Pride Month 2021 was overwhelming. Since then, Applied has continued to support the community of interest in our efforts to enlighten, entertain, and connect with our Applied colleagues around the world.
Tarra Seawright, Sr. Manager, Diversity, Inclusion and Belonging, says, "An inclusive business recognizes, appreciates and values your differences. Inclusion allows employees to be their authentic selves at work, and when an individual is comfortable, they are engaged, trusting, connected and can be more productive than ever." Applied's Community of Interest (COI) leaders collaborate consistently. They support each other's initiatives, co-produce events, and ensure that Black at Applied, Veterans of Applied, Women in Tech, IndispensAbility, and team LGBTQIA+ are working in parallel or together to create thoughtfully inclusive experiences and content. I spoke to Lori Milam, a senior developer at Applied and a volunteer in the LGBTQIA+ COI. Lori has been an essential contributor to the success of our community. When we spoke about the changes she has seen over the past year, she told me, "We've seen a lot of growth in membership in the community of interest. More and more Applied employees are bringing their authentic selves to work." She's right. Today we have more than 280 members. We see them sharing stories of their families, pictures of themselves, their loved ones, special events, and weddings, and sharing their pronouns in their email signatures and next to their names in Zoom meetings. Lori says, "They are no longer living in the shadows or in fear." This freedom naturally cultivates greater creativity and collaboration. Trevor Bunker, Chief Customer Officer at Applied, will tell you, "Diversity and inclusivity are great for business."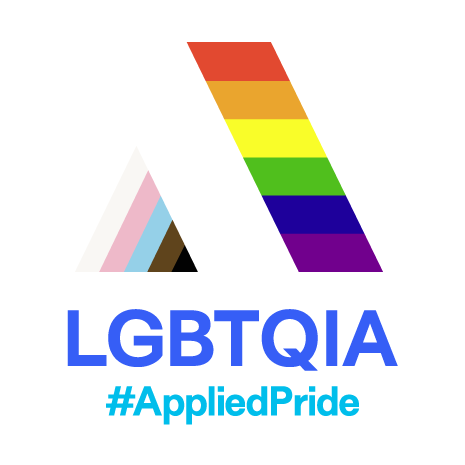 How Applied Supports Our LGBTQIA+ Employees and the Global Community
This Pride Month, Applied is celebrating a few 'firsts,' such as registering and marching in multiple parades, including Milwaukee, and coming up: Chicago Pride on June 26! Employee participants will receive AppliedPride T-shirts, gear, and fun giveaways to share our #AppliedPride as they participate in these events. And to support our employees' dedication to organizations near and dear to them, Applied matches employee donations to qualifying LGBTQIA+ non-profit organizations. We kicked off the month with 'Drag Queen Bingo' and will continue the fun for all Applied employees through the month with informational, historical, and educational Slack channel posts for members and allies of the LGBTQIA+ community, Pride Trivia, a DJ Dance Party at the end of the month, and an #AppliedPride Slack channel with lots of colorful and fun pictures and stories of celebrations and expressions of Pride.
#AppliedPride
Applied Pride is not only about the LGBTQIA+ community in our workplace or the annual month-long display of rainbows and flags. Applied Pride is about being proud that we work for a company that celebrates milestones and events that are meaningful to all employees. We are a company that acknowledges a need for growth in our cultural understanding and takes action to improve resources and open our arms to all who join our team. We welcome a diverse stream of candidates to our company to help us grow strategically. These individuals can work in a dynamic environment as their authentic and innovative selves every day, as we help our customers protect what matters most in people's lives. We are making an impact where we live and work!
We at Applied celebrate Pride with the LGBTQIA+ community, of which I am a proud and grateful member. We wish you all peace and joy in living your dreams. Happy Pride everyone.🏳️‍🌈
I want to thank Lori Milam for her contributions to this post. Lori, a Senior Developer and volunteer on the LGBTQIA Community of Interest Engagement Committee, has been with Applied for 25 years.
Michelle Hébert, CIC, CRM (she/her/hers)

Manager in Data Services

Michelle Hébert is a Manager in Data Services and has been with Applied since 2008. She serves as a Co-Chair of the LGBTQIA+ Community of Interest and is Global Diversity, Inclusion and Belonging Council member. When not working, Michelle and her spouse Colleen enjoy talking to their parents, their three grown children, granddaughter Anya, and having fun with the fur-babies Ava and Sophie. They reside in Palm Coast, FL, where they are in the process of building their dream home.