Reduce cost


and time

Gain a single view of your customer to manage all roles, locations and lines of business from one application.

Access new
markets

Connect with insurer partners and automate policy information exchange without having to leave the system.

Improve business performance

View performance against sales goals and easily track new business opportunities and renewals.

Maximize business value

Seamlessly integrate with third-party applications, proprietary systems and other data sources.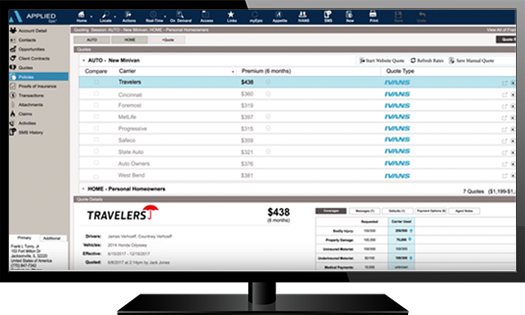 P&C and Benefits management
Maintain a single view of your business while managing two separate businesses in the same application.

Process management and automation
Automate, adapt and reassign the most frequently used workflows, ensuring consistency across all users and locations.
Customer relationship and sales automation
View, monitor, track and forecast new business opportunities and renewals within our application.
Document management
Create multiple folder levels, search, report and track history at the client and vendor level.
Text messaging
Send individual text messages to your insureds or trigger mass messaging through system events.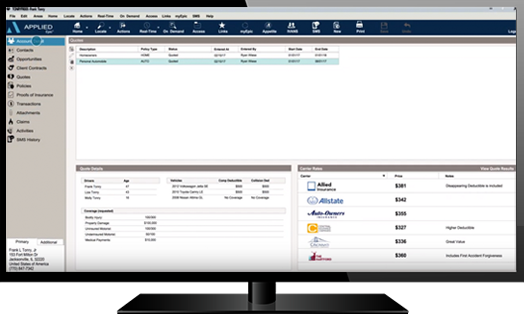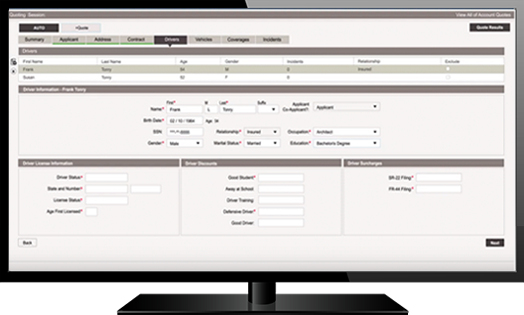 Omnichannel customer service
Integrate with your online customer portal or mobile apps to empower customers and staff with the same policy information.
Single sign-on insurer connectivity
Connect through single sign-on to IVANS Exchange to view, track, report and manage download connections.
Microsoft Outlook Integration

Gain access to your Applied Epic® contacts and attachments, as well as full Microsoft Outlook functionality.

Renewal Management

Keep client account management more focused through added visibility controls within Renewals Manager.

Insurer Connectivity

Access real-time transactions used the most in a single click with the eServicing ribbon available on the policy list.